Tripawds is a user-supported community. Thank you for your support!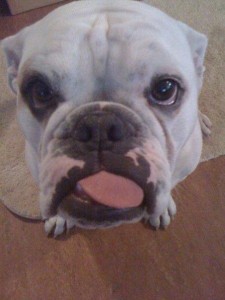 One term that comes up in Dakota's blog is "monkeydog" or "monkeybutt" or some combination of both–or even "monkeybutthead." This concept was created by Tripawd member cometdog and describes the obnoxious behavior of the 4-legged dog in the family after another dog becomes a tripawd. Essentially, because so much love and attention are being lavished on the new tripawd, the other dog can cause havoc or get into trouble, much like human sibling rivalry. So a monkeydog is one that steals toys from the tripawd, or rushes at the door to get out first and knocks over the tripawd, or just generally makes life hard for the tripawd and its family.
Evelyn thought long and hard about joining the ranks of the monkeydogs and ultimately decided that she didn't belong because her naughty and rude behavior was there from the start, long before Dakota lost his leg. Since being a "bad dog" is part of her makeup and she is incredibly proud of it, she would rather just go through life knowing she makes being a bad dog look good.