Tripawds is a user-supported community. Thank you for your support!
Dakota's incision must be itching something fierce because last night he started licking it through the shirt he's been wearing, saturating the shirt. He managed to pull the shirt-tail up and lick the lower part of the incision. He even opened up a little gap, and it started bleeding slightly. The surrounding skin was red and splotchy. Overall, it did not look so great and he would not leave it alone. Because I'd changed his shirts every time he got them wet, I ran out of things to put on him. And I needed something that would be impossible for him to pull up. (I'd even safety-pinned the shirt-tails snugly around him.) The only thing left to put on him was Evelyn's stylish pink fleece. It even has a hood.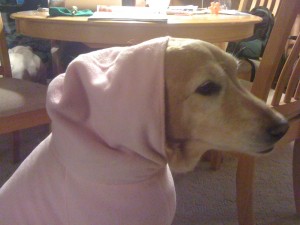 Dakota seemed unhappy about this change of wardrobe, but I thought he was kind of cute. Pink isn't really his color, but maybe he'll stop licking that incision and opening it up!