i had a bizzy bizzy day and i am so tired! i had a venture and went in the car. but the morning was not so good. i wuz sleepin just fine and then my momma lady called me.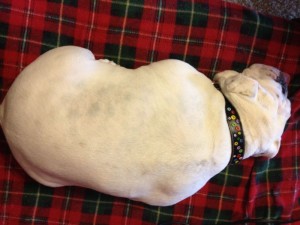 when she calls me from the kichen or the living room, i am happy. when she calls me down the hallway, i get nervus. when she calls me from the bedroom, i run and hide. today she called me from the bedroom.
i wuz rite. there was a bery good reeson to hide. she did this.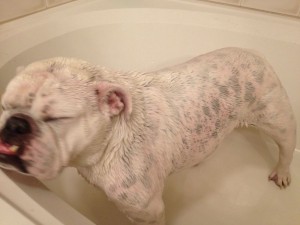 after she dried me off, i did this.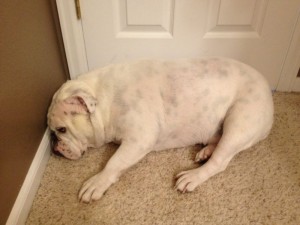 after a little bit, my momma lady got the leesh. i was bery spishus because of the baff. i was afrade she was going to take me to the v-e-t. you know what? i was rite! dammit! i hate being rite. they put me on the scale again and said oh boy she has lost one haff a pound. i said so what. then we all went into a room and i got so scared. i shook and shook and could not stop. my momma lady got on the floor and kissed me and said sweet things but i still shook. they wanted my blood. they had a hard time finding it. i do have blood. i just like to keep it inside of me.
after the v-e-t, we got back in the car. my nervs were so nervus i did not think i could take any more. we got on the freeway and i did not like that. that ment we were not going home. but you know what? when we got off we went to this place with a funny doohicky sticking up out of the ground. momma shouted at it. i thought why is so so mad at that dookhicky? she yelled some more. then she drove off. but not for long. then she stopped and a arm came out of a window and gave momma a bag. it smelled incred, um, nice. and oh yes i got a treet!
sumbody put a burger in a bowl and then put some lettus in the bowl and then put a lid on it. i smelled it and then momma opened it and then i choked on it.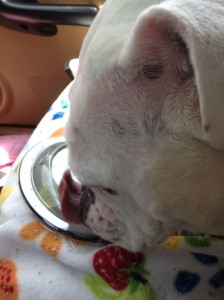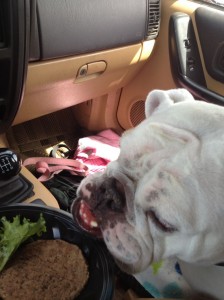 then i stared at my momma lady and made the big hungry eyes. it did not work.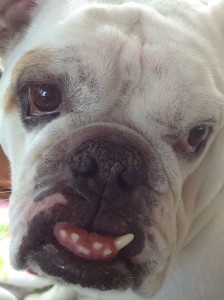 then we went to pick up something at a warehouse and then we came home. and that was my bizzy bizzy day!