Barney has been called away on a super-secret, double-ultra-important mission. He was going to stay another day but my Woman said duty calls. She said Barney is some kind of secret agent man and he is needed elsewhere–P*R*O*N*T*O. So Barney was crammed into his box and he's flying away in the morning.
Barney stinks. He really does. I found his scent…compelling and interesting. Evelyn found it intoxicating.  Photographic proof below.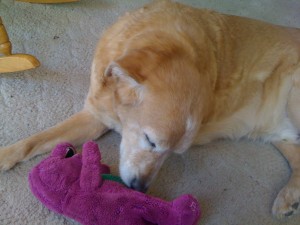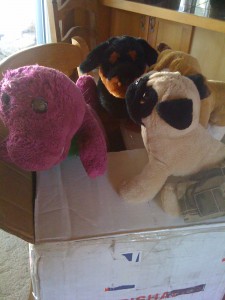 As we crammed Barney into the box, all of his Blackjack friends showed up to send him off. Puku, Oscar and Bandit hopped up there and did whatever it is that compulsive gamblers do when they say goodbye.
My assessment:  He's a pain in the butt, no doubt about it. I hope he makes up for the riot he caused here. Funny thing. We were supposed to kill Barney but instead Barney made me a little nuts.  I ate Evelyn's head and made her bleed a little. I say good riddance, purple creature.  So long, schmuck!